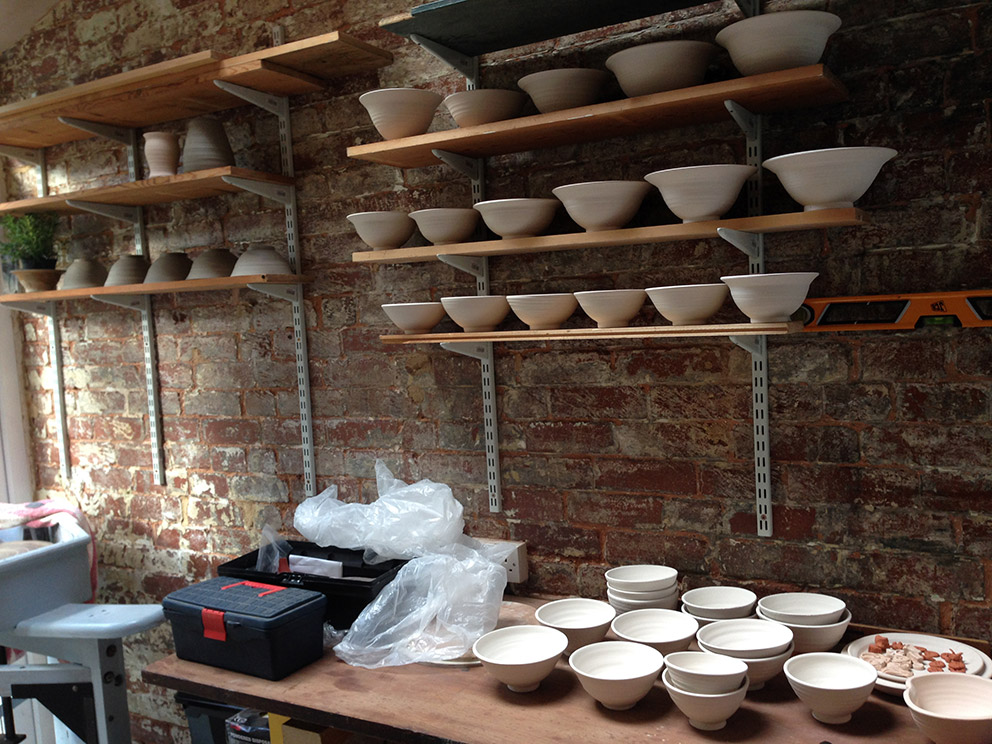 I grew up in Dartington amidst the echoes of Dartington Hall and the legacy of the Elmhursts, Bernard Leach and the far off calling of St.Ives and Japan. I threw my first ever pot whilst at Dartington Primary School with Potters from Dart Pottery, Shiners' Bridge, where Bernard Leach had his workshop and Marion DeTrey still worked in her cabin. The pleasure and excitement in that process has become a life long love; I waited weeks for my pot to come back…
Ceramics was my home at school, an inspirational teacher, my sanctuary and I knew I would always make.
I studied Ceramics at Farnham Art College and whilst I was there I made a life long friendship with my Japanese housemate and connections with Japan began. Upon graduating I was sent a ticket to fly out to attend her wedding. I stayed in her hometown near Toyohashi, travelled and visited the famous pottery villages of Japan; saw Japanese craft men, women and villages at work.
Her father arranged for me to work with a local potter and I cycled everyday through the rice fields to watch, learn and exchange our approaches to making pots. He'd built a wooden house on stilts, where he lived and worked with his wife and young son in the woods. He fired an anagama wood fired kiln and he was as fascinated by my hand coiled double skinned 'bowls' as I was by his simple thrown tea bowls 'O-Yu-No-Mi'
I remember sitting at his Shimpo wheel, straining to centre my lump of clay, and he watched my struggle perplexed. Without any common language, he pointed to a tree, cupped his hands and fingers to the sky, gesturing them upwards in a spiral and said 'Ki' (Qi). He then touched his stomach and gestured upwards through his body and said 'Ki'. Pointing towards my tortured lump of clay on his wheel, he again gestured and said with a smile 'Ki'.
I taught in Further Education for 10 years, always hand building, often carving wood, and making drift wood automata made out of eclectic elements, gathered, found and made, but always turning to throwing simple beakers off the hump with an inner sense of 'Ki' for peace and grounding.
When I left and moved, I lost workshop space and time became consumed by new challenges. I found my love of water, fitness and competing around the world with my Dragon Boat Racing team, finding that peace in repetitive actions, mindfulness in the moment, process and elements. I wasn't making though and a part of me remained quiet, silenced.
14 years later, teaching a community evening class, a student asked if I would throw them a bowl?"Of course" I said and watched in stillness and curiosity as I threw the biggest bowl I'd ever thrown – "Ki', it just rose before me and the breath within me smiled and I knew I'd returned.
That was last year, I now have an electric kiln at the back of my house, and a reconditioned Leach kick wheel I'd bought for £50 about 25 years ago, from the old workshops at Foxhole, Dartington.
I finally started throwing full time in September last year (2017), producing the current range of work you see here, with more just spilling to come out. I have plans for workshops, raku firings and ambitions of kiln building. For now, I'm keeping it simple, and am just throwing.
To follow my work and see upcoming workshops, events and exhibitions, like my Facebook page or read my blogs here.
If you want to talk to me about a commission or any other aspect of my work, do please contact me through the links on this page facebook, email, phone.
Please do share 🙂